2nd INCF Congress of Neuroinformatics: September 6-8, 2009
Accommodation
The Congress has pre-booked rooms at two hotels, the Parkhotel and the Marriott. These rooms are available through the Congress registration form. Deadline for these pre-booked rooms is August 4.

Parkhotel
The congress venue Parkhotel has 125 rooms available for the congress participants. Parkhotel Pilsen is a new, modern, hotel situated in the beatiful enviroment of Borský park in the southern part of Pilsen. All rooms are equipped with their own bathroom, TV-SAT, telephone with a direct line out, mini-bar, safe and connection to the Internet.
Single room: €60 Double room: €120


Marriott Courtyard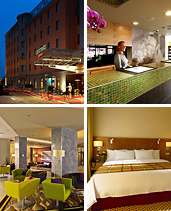 The New Courtyard by Marriott Pilsen is set in Pilsen's legendary historic district, where magnificent Gothic, Renaissance and Baroque architecture reflect the city's storied past. This modern luxury hotel in Pilsen offers spacious guest rooms, the comfort of plush bedding and features like a desk, flat-screen TV and high-speed Internet. Delightful dining awaits at the trendy Pils'n'Grill Restaurant & Bar, where guests can watch the culinary team prepare international and Czech specialties in the open kitchen. Relax in the bar with a Pilsner Urquell, the famed local beer. The 24-hour market serves sandwiches, salads, sweets and drinks. The well-equipped fitness center is always open for energizing workouts. For meetings or social events, the Courtyard by Marriott Pilsen hotel offers a large ballroom, 2 meeting rooms and a business center with high-speed Internet access.
Transport Marriott Parkotel
Tram #4 or trolleybus # 16 from Marriott (downtown) to Parkhotel (direction Bory). Parkhotel is situated in between the Bory trolley station and the Bory tram station. For the trolleybus, get off at Bory and go back about 150 m along the trolley path and Parkhotel will be on your left hand side.
• If you get lost on the way to Parkhotel, ask local people for directions to a tram #4 or trolleybus #16 terminal, direction Bory (most people know where Bory is, whereas not everybody know where Parkhotel is).
• If you get lost on the way to Marriott, ask locals for directions to Namesti, which is very close to Marriott hotel (Namesti means city center square).
How to buy tickets for Pilsner public transport
There are two independent systems. The electronic (PilsenPass card) system and the old paper ticket system. For short visits we recommend the paper ticket system.
Paper tickets can be bought in vending machines at major stops (e.g. Bory, V sadech petatricatniku, Railway station; coins are needed), special shops at the railway station, the central bus station, newspaper and tobacco shops etc. These tickets cost 12 CZK and can also be bought directly by the driver for 20 CZK.
Single room: €77 Double room: €90
Below is an additional alternative for those of you who are having trouble getting a room at Parkhotel or Marriott.

Hotel Angelo
Address

U Prazdroje 6
301 00 Plzeň
Web page
http://www.angelo-pilsen.cz/en/home/
Contact information

Phone: +420 378 016 111
Fax: +420 378 016 016
E-mail: EMAILinfo@angelo-pilsen.cz