2nd INCF Congress of Neuroinformatics: September 6-8, 2009
Transports
Prague Ruzyne airport to Pilsen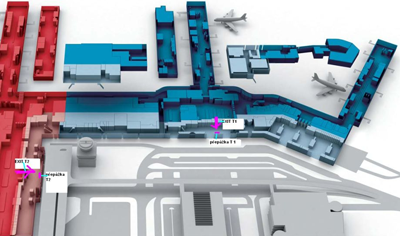 Each of the two airport terminals will host a "Neuroinformatics 2009" desk with staff from our congress arranger. The hostesses will help with locating suitable means of transport. In addition, the desk will serve as a meeting point for people who need to meet up with colleagues or who simply wish to find other congress participants to share taxi to Pilsen with.
The desks are located right in front of the exit from the arrival lounge (see map to the right) and are easily spotted. Look for the blue "Neuroinformatics 2009" sign (see below to the right)!
The Neuroinformatics 2009 desk will be operated the following hours:

| | | |
| --- | --- | --- |
| September 3 | (Thursday) | 09-14 |
| September 4 | (Friday) | 09-12 |
| September 5 | (Saturday) | 09-20 |
Pilsner Public Transport

Pilsen has numerous trams and trolleybuses. There are two independent ticket systems. The electronic (PilsenPass card) system and the old paper ticket system. For short visits we recommend the paper ticket system.
Paper tickets can be bought in vending machines at major stops (e.g. Bory, V sadech petatricatniku, Railway station; coins are needed), special shops at the railway station, the central bus station, newspaper and tobacco shops, as well as in the reception of Parkhotel. These tickets cost 12 CZK and can also be bought directly by the driver for 20 CZK.
For an interactive map of Pilsen with hotels and meeting venues etc pointed out, please click here
For a complete map of the Pilsen public transportation system, please click here
Transport Marriott - Parkotel
Tram #4 or trolleybus # 16 from Marriott (downtown) to Parkhotel (direction Bory). Parkhotel is situated in between the Bory trolley station and the Bory tram station. For the trolleybus, get off at Bory and go back about 150 m along the trolley path and Parkhotel will be on your left hand side.
• If you get lost on the way to Parkhotel, ask local people for directions to a tram #4 or trolleybus #16 terminal, direction Bory (most people know where Bory is, whereas not everybody know where Parkhotel is).
• If you get lost on the way to Marriott, ask locals for directions to Namesti, which is very close to Marriott hotel (Namesti means city center square).
Transport Pilsen train station - Parkhotel
It is approximately 4 km and trolleybus #16 goes directly from the station (stop HL.n&aacutegdr. ČD, Americk&aacuteg) to Parkhotel (stop Bory, Heyrovskeho)